Steady State Superconducting Tokamak (SST-1)
| | |
| --- | --- |
| Figure Top view of the SST-1 tokamak | SST-1 is a medium-size tokamak with a major radius of 1.1m and a minor radius of 0.2m. The toroidal magnetic field is routinely operated at 1.5T ( TF magnets are designed for 3T). ECR preionization and Ohmic system are used to achieve the 100kA plasma current up to 450ms in Ohmic-only scenarios. Launching the Lower Hybrid power of about 100kW has also been used to enhance the 80kA plasma of duration 650ms (limited due to the available equilibrium field provided by the external (Copper-based) vertical field). |
The overall achieved parameters in SST-1 till date is shown below.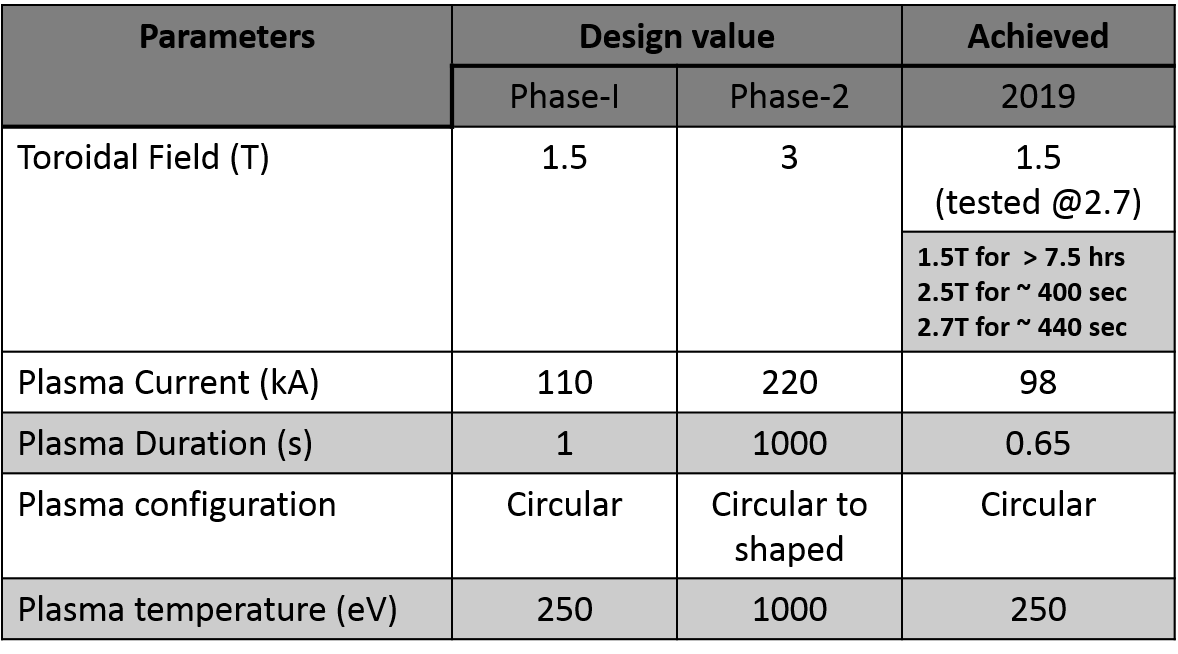 Current leads of one of the Poloidal Field Coils (PF-3) are being integrated with SST-1. Operation with the PF-3 coils along with the Ohmic system would give rise to transition from circular to a moderate shaped plasma (as expected from the simulated results).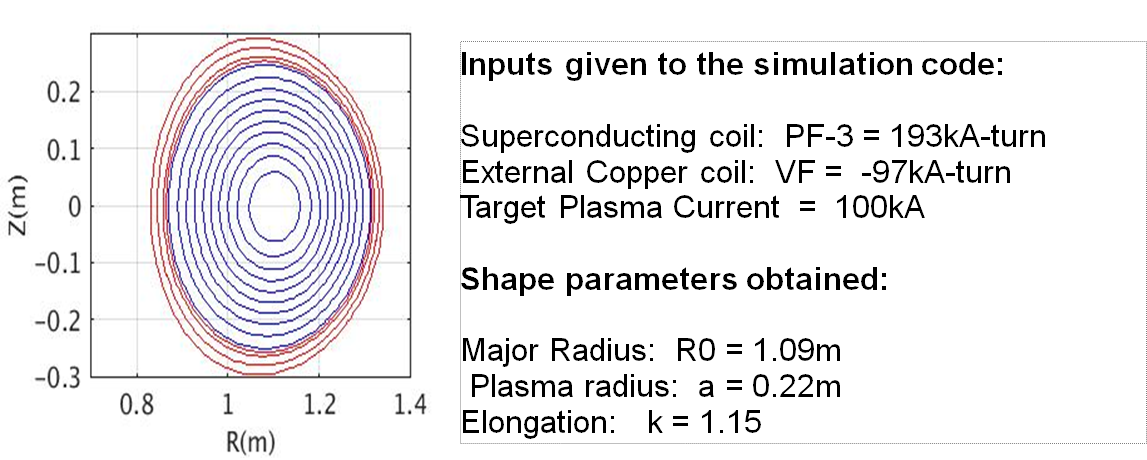 For operation, power supplies have also been commissioned.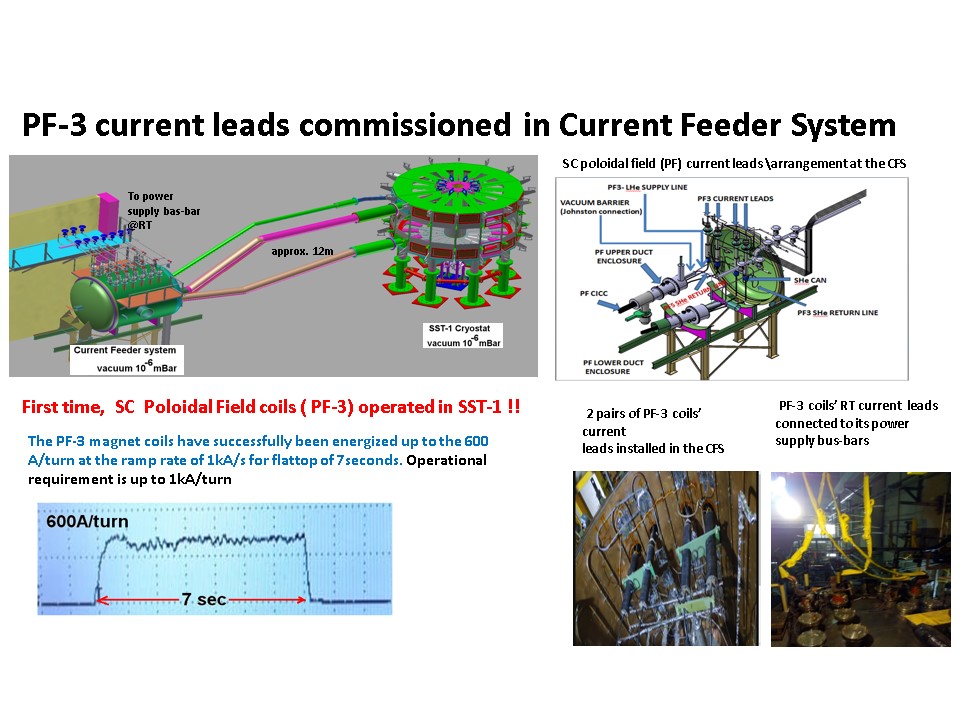 25th Experimental campaign of SST-1 A video of plasma discharge (Shot#9385)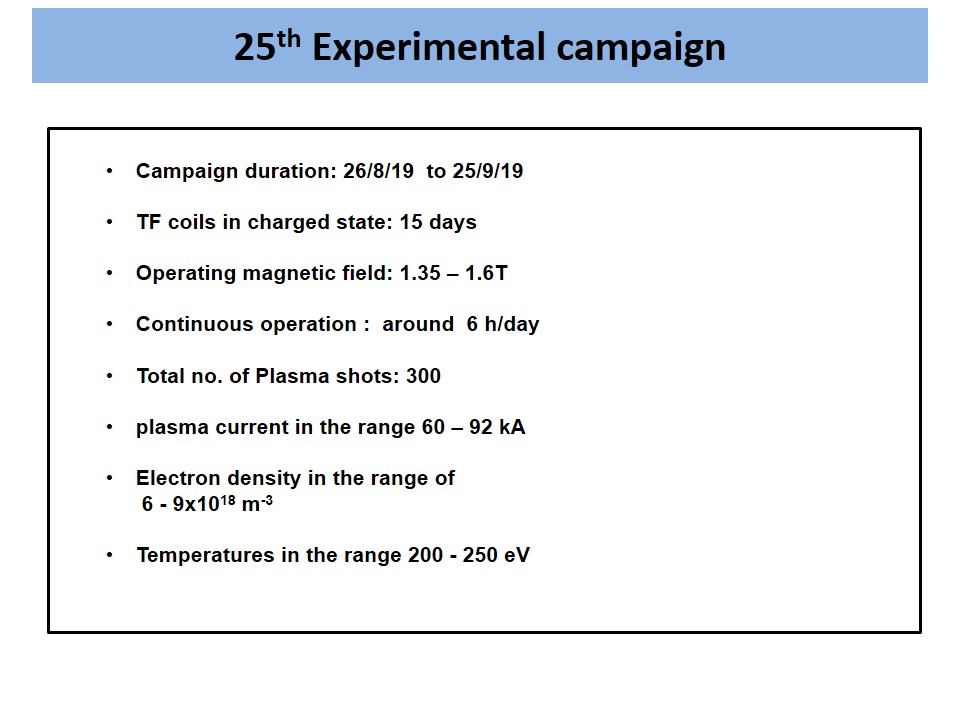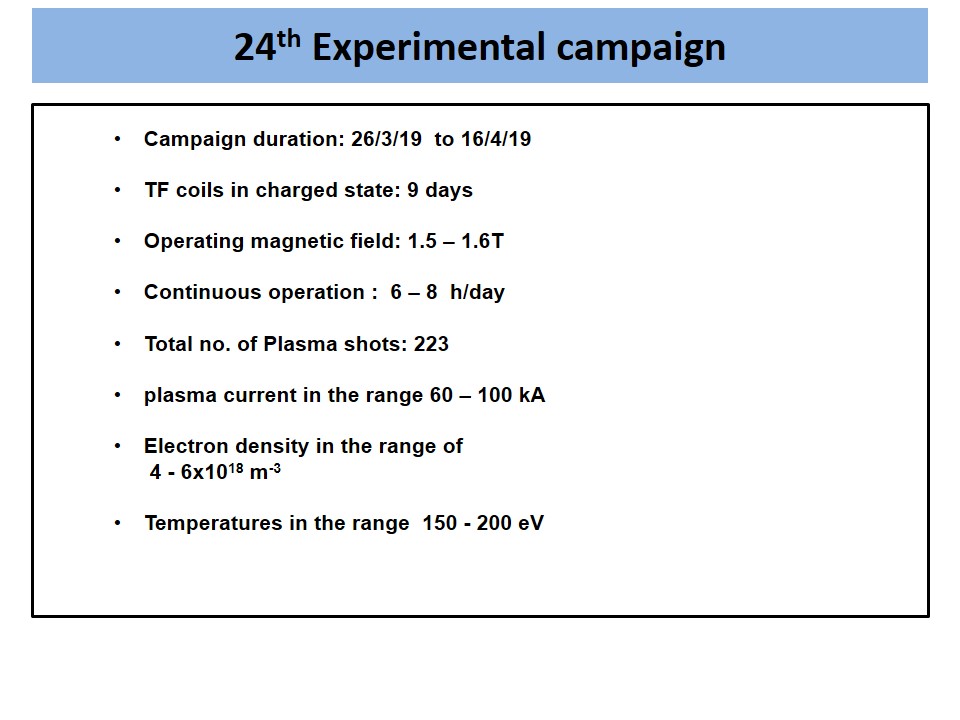 ---
Recent SST-1 publications
:
Journal Publications: (April 2019 onwards)
Development of a Novel Spiral Antenna System for Low Loop Voltage Current Start-Up at the Steady State Superconducting Tokamak (SST-1) DEBJYOTI BASU, DANIEL RAJU, RAJ SINGH, APARAJITA MUKHERJEE, MANOJ PATEL, DHARMENDRA RATHI, R G TRIVEDI, KIRIT VASAVA, K A JADEJA, SNEHA P JAYASWAL, VIJAYKUMAR N PATEL, S K PATNAIK, PARESH VASAVA, AJESH SUBBARAO, BHAVESH KADIA, KIRIT PARMAR, SIJU GEORGE, YUVAKIRAN PARAVASTU, KALPESH R DHANANI, CHIRAG BHAVSAR, SUDHIR SHARMA, M V GOPALAKRISHNA, MAINAK BANDYOPADHYAY, MINSHA SHAH, PRAMILA GAUTAM, HIREN D NIMAVAT, PRASHANT L THANKEY, ZIAUDDIN KHAN and DILIP RAVAL
Current Drive Experiments in SST1 Tokamak with Lower Hybrid Waves
P.K. SHARMA, D. RAJU, S.K. PATHAK, R. SRINIVASAN, K. K. AMBULKAR, P.R. PARMAR, C.G. VIRANI, J. KUMAR, S. SHARMA, C. SINGH, A.L. THAKUR, V.L. TANNA, U. PRASAD, Z. KHAN, D.C. RAVAL, C.N. GUPTA, B. KRISHNAN, S. NAIR, D.K. SHARMA, B. DOSHI, M. VASANI, K. MAHAJAN, R. RAJPAL, R. MANCHANDA, K. ASUDANI, M.K. GUPTA, M.B. CHOWDHURI, R.L. TANNA and SST-1 & DIAGNOSTIC TEAMS
Nuclear Fusion (Accepted for Publication: Dec 2021)
https://doi.org/10.1088/1741-4326/ac4297
Design of a 3.7 GHz, 1 kW CW Hybrid Radial Power Divider for LHCD System of SST-1 Tokamak
SANDEEP R. SAINKAR, AVIRAJ JADHAV, ALICE N. CHEERAN, J. JOHN, PROMOD K. SHARMA, HARISH V. DIXIT
Internal Reports: (April 2018 onwards)
Standard Operation Procedures of Regulated High Voltage Power Supply (RHVPS) for LHCD and ECRH
C. B. SUMOD and NBI POWER SUPPLY & DATA ACQUISITION DIVISION
IPR/TR-476/2018 (APRIL, 2018)
Standard Operation Procedure for SST-1 Magnet System by Magnet System Division, IPR
UPENDRA PRASAD, BHADRESH R PARGHI, PANKAJ VARMORA, AZAD MAKWANA, MONI BANAUDHA and CHIRAG DODIYA
IPR/TR-477/2018 (APRIL, 2018)
Standard Operation Procedures (SOP) for SST-1 APC Power Supply
DINESH KUMAR SHARMA, AKHILESH KUMAR SINGH, AMIT OJHA, JASRAJ DHONGDE, MURTUZA M. VORA and SUPRIYA A. NAIR
IPR/TR-482/2018 (MAY, 2018)
Standard Operation Procedures (SOP) for SST-1 TF Power Supply
DINESH KUMAR SHARMA, MURTUZA M. VORA, AKHILESH KUMAR SINGH, AMIT OJHA AND SUPRIYA A. NAIR
IPR/TR-483/2018 (MAY, 2018)