Swachatha Pakhwada - 2022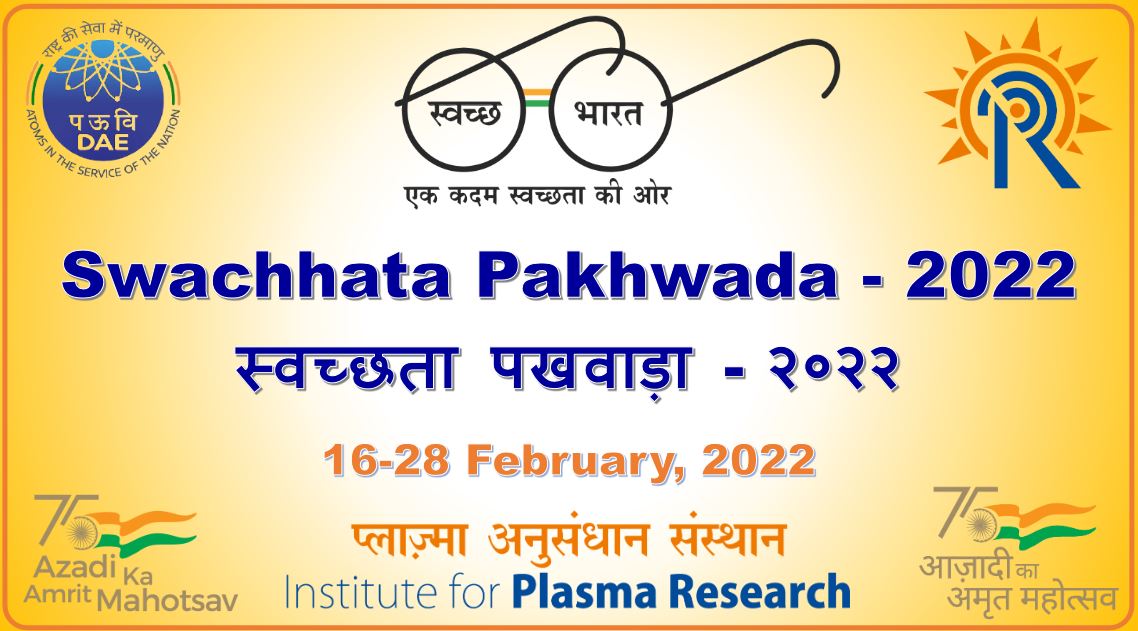 Swachhata Walk (IPR to ITER-India) on 26th Feb 2022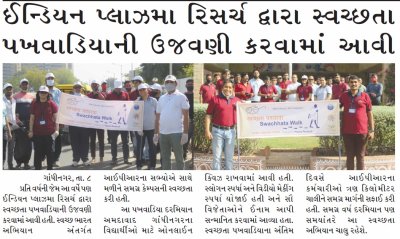 Proposed Activities at IPR
Following are the major activities will be carried out for Swachhta Pakhwada-2022 (16-28 Feb. 2022), in Institute for Plasma Research, Gandhinagar.

Ensuring general cleanliness of all the campuses of IPR

Removal of all metallic and non-metallic waste items that has piled up at various places in the Institute. These items are to be removed to a designated place for proper sorting and disposal.

All kinds of plastic items and scraped electrical cables and other items to be collected from offices, laboratories and various open spaces and will be disposed accordingly.

Survey of all the offices, laboratories, canteens, guest houses, kitchens, and lavatories to check proper cleaning and waste disposal. Wherever there is a lack of cleanliness, it will be thoroughly cleaned. Along with the cleanliness, proper and professional placement of items will also be carried out.

A concluding program of Swachhta Pakhwada-2022 will be conducted with a mass pledge that the campaign and efforts will continue in future to keep our campus clean and green as a part of the Swachh Bharat Abhiyan.

On-line and off-line swachhata theme-based competitive activities will be arranged for IPR staff and family and also for students from schools in and around Ahmedabad-Gandhinagar.

Webinar on "Use of Plasma Technology for Waste Management" for school/college students and general public.
Proposed Competitive Events to be held

Online Quiz – for Schools in Ahmedabad-Gandhinagar districts (by invitation)

Online Eloquence (Hindi/English/Gujarati) – for Schools in Ahmedabad-Gandhinagar districts

Poster Competition (for IPR staff and family)

Essay Competition (for IPR staff and family)

Slogan Competition (for IPR staff and family)
Certificates and cash prizes will be given to the 1st, 2nd and 3rd prize winners respectively. All participants will get a participation certificate. The certificates will be sent by email and the prize will through sent online bank transfer to the winners.
Timeline
| | | |
| --- | --- | --- |
| | Events | Date (Tentative) |
| 1. | Essay, Poster, Slogan Competitions | 16-25 Feb |
| 2. | Webinar | 18 Feb |
| 3. | Quiz, Eloquence | 22-25 Feb |
| 4. | Display Swachhata message in the campus, on website etc. | 16,28 Feb |
| 5. | Clean Campus Initiative with "Best out of Waste" | 16-25 Feb |
| 6. | 3 km Swachhata Walk (IPR to ITER-India): Collection of plastic waste (Subject to prevailing COVID-19 protocol) | 26 Feb (Saturday) |
| 7. | Concluding session & Prize distribution | 28 Feb |